Book Probe : Art of Omni, A Better World, WondLa, Starship Grifters
Reviewed by Joe Crowe (@yojoecrowe), © 2014

Book Probe finds readable things in the geek-related circles of sci-fi, fantasy and horror and tells you where to get them. Read more now! (Links are in the titles.)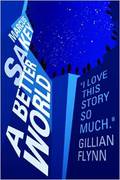 This is the sequel to Brilliance(the RevolutionSF review of that is right here). The series is about people with powers sprouting up and society not dealing with it in a healthy way. Yep, like X-Men and Heroes. But wait! It's good stuff.
The second book continues to follow the hero of the first, and ramps up the stakes to a crazy degree, far further than I expected. Any second part has to do that. The focus is on political intrigue involving superpowers this time.
The hero has matured and progressed as a character. That's not something you hear about people in superhero stories.
The first one tried to do its own take on superhero cliches. This book embraces them, even including a surprise scene after the final chapter, a post-credit sequence in book form.
RevSF Rating: 8 out of 10
WondLa by Tony DiTerlizzi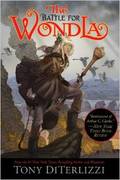 The WondLa series is good stuff, and I'm just discovering it now as its third and final book launches, The Battle for WondLa. Writer Tony DiTerlizzi got his start illustrating Dungeons and Dragons games, and that DNA of that stuff is here in the monsters, the worlds and the characters.
. The series star is a girl hero who meets monsters, aliens and assorted other folk amid ruins and robots. In the last book, a villain yells "SILENCE!" If you're on the fence about the book by the time you get to that point, that will sway you. That is how a villain is supposed to talk.
I am nonplussed by the new book's New York Time Book Review cover blurb: "Reminiscent of Arthur C. Clarke." I don't think that means what you think it means, if I may paraphrase Inigo Montoya from Princess Bride.
Cover blurbs that far off base are rare and should be treasured. WondLa is not at all the cold speculative fiction that I'm used to reading from Clarke. It's fantasy and adventure mixed together with clever characters and a deep sense of fun.
DiTerlizzi has developed a deep, deep world. This is not a shock. He's a D&D fan. He's probably mapped the whole thing out with hand-painted miniatures. At the end of the book is a symbol language, a glossary and a map. This is good work.
He illustrates, too. Each chapter heading looks like a screenshot from a movie through an old-timey photo filter.
I read the third book first. That's not the best idea in the world. Start with book 1. That way, your mind won't be blown when the inspiration for the term "WondLa" is revealed at the end of book 3. It was also revealed in the first book, but I didn't know that. So the revelation just made me happy. These are those kinds of books.
RevolutionSF Rating: 9 out of 10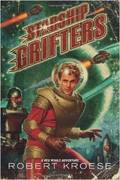 Hilarious. That's what this is. Starship Grifters is a sitcom in book form, populated by a space adventurer of the Mal Reynolds / Han Solo / Jack Burton type, who has a straight man in the form of a matter-of-fact talking robot.
Here's just one example of the top-notch banter:
"I won't get within a hundred meters of a reputable DNA scrambler. And you remember what happened the last time I used a disreputable one."
"Yes, sir. I was the one who had to shave you three times a day."
It's only 128 pages, which is ideal if you want to read something good but you don't want to read it for long.
RevolutionSF Rating: 8 out of 10.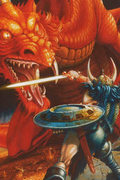 My first exposure to Omni magazine was in the mall bookstores, and the first thing I noticed about the science fiction magazine was the incredible art that jumped out of the racks past the wrestling magazines and fishing magazines (we had a very small mall.)
Now the best of that art is collected here. Each piece is suitable for framing, if you want to ruin your book.
My personal favorite: The knight fighting the dragon from the red box set of basic Dungeons and Dragons. It was Omni art first. There; this book is educational.
Check out more about the book at OmniReboot.com.
RevSF Rating: 9 out of 10