Mister Darth Vader is the best father in all of science and fiction.
After Anakin Skywalker's baby mama died, Darth Vader never checked for himself what happened to his babies.
It would have been pretty easy. One lived with Vader's own family in the house where Vader's mom used to live, and had the same last name.
After he put on his sweet armor, he chopped his boy's hand off for not wanting to join the family business. He threatened to kidnap and brainwash his sister.
But when Darth's boss was electrocuting his boy -- you know how bosses are -- Vader came through. He abused the right person for a change!
Then the boss got dead, the boy was OK. And so Darth was set for sainthood like his buddies Obi-Wan and Yoda.
Because he did one good thing, one time.
There is a Father's Day card for that.
You showed me how much you love fighting
And Force-threw furniture at my head
But when I was getting killed with lightning
You beat the other guy down instead.
Thanks, Dad, for everything you do. Happy Father's Day!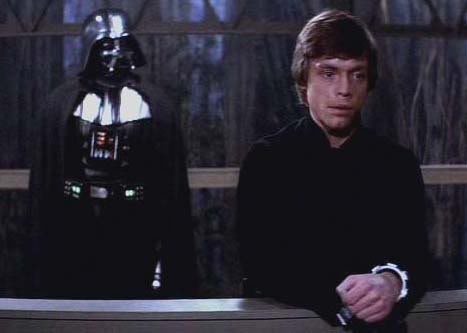 So . . . how's 3PO?