Book Probe links you to the latest from new writers of sci-fi, fantasy, horror and any of the geek-centric genres. Links are in the titles. Buy often!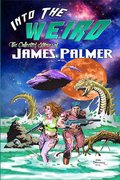 Quick confession: I know James Palmer. He's written for RevolutionSF. He's a regular on panels for our
American Sci-Fi Classics
track at DragonCon. And he knows exactly what I want in a sci-fi anthology: More than one really good story. A sense of humor. Giant things.
These stories include has a 1950s-style space ace, a pulp-style wizard villain, a giant spider, and a Western that features a robot fighting a mummy.
A robot fighting a mummy. You just bought a copy, right there.
Into the Weird butters my sci-fi biscuits in just the right way.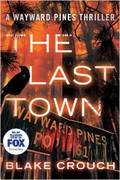 This is book 3 in the Wayward Pines sci-fi mystery series. It will soon be a TV series starring Matt Dillon and directed by M. Night Shyamalan. This book concludes the whole shebang, so ha-ha, I know how the series ends. That is, if Shyamalan doesn't hit me with a Shyamalan swerve.
As a stand-alone book, you'll be lost. It's not so much for the stand-alone book shopper. Check out the first two first, and come back here for the big wrapup. They're easy enough to find. The first one is called Wayward, the second is Pines. I am furious that this book does not complete the set with the name That One Space Between Wayward and Pines.
Years ago I remember Shyamalan saying he was getting away from the Shyamalan Swerve, his trademark Big Secret and/or Surprise Ending. Well, sir, he must have changed his mind. This whole series is about a Big Secret. The book's hero (whom you can now mentally picture as Matt Dillon) finds out in book one. Maybe they should have dragged it out a little.
Mars 01 by Kyle M. Strickland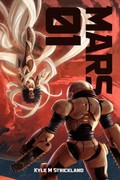 If the cover was all you were getting from
Mars 01
it would still be worth a buy. But there's a whole book attached! And it's good. Bad guys are coming from space to do bad things to humans, and humans are trying to get their stuff together to fight them.
This is an action flick in book form. I mean that as a compliment. Stuff blows up. There's fightin' and killin', and a good, brutal time is had by all.
But some readers like characters and emotion, and Strickland mixes some of that into the stew here, too, which makes the fightin' and killin' mean more, since you get to know some of the people doing it and receiving it.
I'm not sure if a second book is planned for Mars 01. If not, a standalone book with a complete story is a rare and needed thing. If more is coming to the universe in which Mars 01 dwells, then I'm anxious to get hold of it.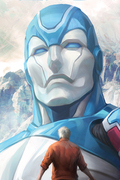 "We'll never out-science the world's brokenness."
I knew I'd dig this story when it starts with a map and a glossary of terms. It's like Sean Sousa wrote them just for me.
It's humans and robots in a sci-fi city, and the story goes back and forth between regular Earth stuff and giant robot-style action. There, I just sold a few of you. Giant robots. And an evil alchemist! That got a few more.
There is an element of faith in the story, which requires a delicate balance. Is the writer doing a faith story, or doing a sci-fi story? The writer manages to blend them into a sci-fi adventure that will ping on your emotional parts. And by that I mean, the last chapter may bring on some tears. There's an over-the-top sci-fi adventure here, and it's solid fun, regardless of faith status.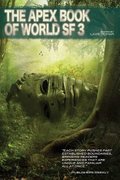 This anthology collects SF, fantasy and horror from around the world. It's from the same publisher as Glitter and Mayhem, which I enjoyed thorougly. So this makes two for two.
This book expanded my horizons. I don't say that much, because I thought I was cultured up plenty. This book provides stories from Thailand, China, Malaysia, Nigeria, Greece, Gambia, Germany, the Philippines, India, Norway and a few more, sixteen stories in just 282 pages.
Here's how the first story starts:
In the shadow of machine-gods I tell wayfarers of a time where my people were a nightmare the color of hemorrhage and glinting teeth.
That's just the first sentence. So, yeah. You should probably give this a shot.
The Man From Mars: Ray Palmer's Amazing Pulp Journey by Fred Nadis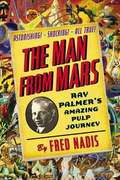 I totally had no idea about this guy, other than DC Comics' Atom was named after him. That's not all he did. He was the editor of
Amazing Stories
magazine in SF's Golden Age, so I feel nonplussed that I knew nothing about this guy. Luckily for me, this book is here to help. It doesn't shy away from the trivia tidbit about the Atom. So I get my explanation and Atom-maniacs everywhere get that neat story (you know who you are.)
Beyond that, this guy is intriguing. He was there at the beginning of science fiction fandom, at the first conventions. Palmer's story includes encounters with every Grandmaster and Hall of Fame name you can think of.
Most science fiction writers just write science fiction. This guy went after it. He pursued and investigated flying-saucer stories and the unexplained. He became an expert. And in 1962, he wrote this amazing line: Even Rod Serling must suspect there is a Twilight Zone, or he would not write of it."
You want to read about the life of the guy who said that. (And you can, right now.)
RevolutionSF's Book Probe is sponsored by SMS Audio's Star Wars headphones! You've got reading to do. Eliminate the troublesome outside world with Star Wars headphones!