There are currently five books in Charlie Higson's Enemy series: The Enemy, The Dead, The Fear, The Sacrifice and The Fallen. All five are action-packed, stay-up-until-2:00-in-the-morning-to-finish page turners. Go ahead and save yourself some trouble and buy all five at once.
In the first book, we join a group of children and young teens living in what remains of a grocery store in London. Something – and we don't know what – has affected everyone over the age of 16. They either died or became a shuffling, unthinking zombie-like creature with a taste for the flesh of children.
Yep. They eat kids.
All five books tell the story of the kids that are left, and their struggle to survive in a world without adults and the resources that they provide. Time has passed since the outbreak, and canned goods are getting harder to find. Water is becoming scarce, and the zombies are getting desperate. Although the countryside would provide them with a means of growing their own food, or so we are led to believe, the books follow "city" kids.
The urban children still alive join together in famous landmarks throughout London. Buckingham Palace, the Natural History Museum, Parliament, and the Tower of London are all homes to young survivors. Inside these fortresses from history, kids try to go about life the best they can.
There's a little romance (very little), a little mystery, a good bit of gore, lots of fighting and even more death. Don't get attached to any one character. No one is safe.
One unique thing immediately sticks out: Unlike every zombie movie and story ever, the characters here have actually heard of zombies. The bad guys technically are not undead, but the kids know the term "zombie" and use it.
I will be honest. The books drove me crazy, and kept me reading, by not explaining the outbreak.
As someone who wanted to be an epidemiologist in a past life, I had questions. What caused it? Why did this happen' Why do some adults die and some become zombies? Can it be stopped? You will get a few answers, not ALL by any means, but a few, and not really until book five.
Because there are so many unanswered questions, I can only hope that book six comes out soon.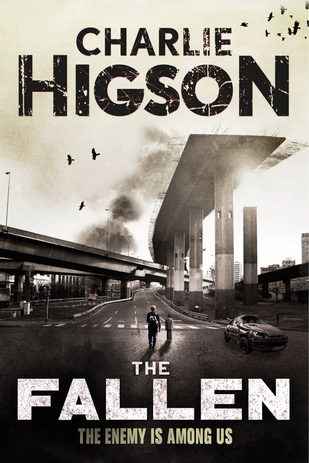 Read These
Read this
free excerpt!
Like The Enemy series on Facebook at Facebook.com/theenemyseries.