Batman's live-action TV series started in 1966. Its joys are immeasurable. Geena Phillips watches every episode and writes fun things about them, old chums.
Season One
If you don't dig colored smoke, Batman is not your show..
"Do YOU know how we can defeat him?"
"Could you patch me through to the Hotline?"
"Sound penology, Warden."
"We were fishing at the time."
"He sprung himself."
"Egads! What sorcery is this?"
"Some kook just melted the ice rink!"
"We took a wrong turn at Route 49."
"Yes, Master Robin?"
"Eatin' sherbet and changin' clothes."
"When is a person like a piece of wood?"
"Stop fiddlin' with that atomic pile and come down here!"
"Remove my cowl?"
"Do you usually carry a homing transmitter in your bowler?"
"How do you stop a dog from barking in July?" "Shoot him in June."
"Remember to always check jukeboxes. They can be deadly machines."
"Bless you, Batman."
"The Caped Crusaders?"
"You can brush my pussy willows before you go."
"I just returned from a late session at the mayor's office."
"Mr. Crime. Mr. K. Rime."
"On what charges?"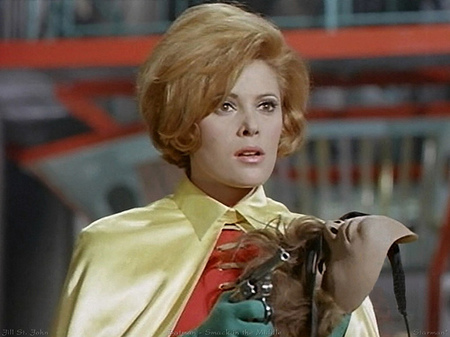 Ladies and gentlemen, Jill St. John in a Robin costume. This is how the series STARTED.