After eight movies, largely all critical and financial successes, director Christopher Nolan returns for his post-Dark Knight trilogy offering with the science fiction spectacular Interstellar. Sadly, the much anticipated film flounders in a poorly executed mish-mash of concepts and half-conceived ideas.
On a near future Earth, blight routinely ravages crops. Dust storms scour the land. The planet no longer welcomes and supports humanity. Former NASA test pilot and engineer turned farmer Cooper (Matthew McConaughey) lives with his family: his father-in-law (John Lithgow), son Tom (Timothée Chalamet/Casey Affleck), and daughter Murphy (Mackenzie Foy/Jessica Chastain/Ellen Burstyn). While attempting to prove (or disprove) a supernatural occurrence through scientific means, Cooper uncovers a secret NASA installation led by Professor Brand (Michael Caine).
Realizing the futility of humanity's fight for survival, Brand theorizes that other galaxy planetary colonization is mankind's only hope. He convinces Cooper to pilot an experimental ship through a wormhole near Saturn into another galaxy. Joined by a three-person crew that includes Brand's daughter Amelia (Anne Hathaway), he follows the paths forged by the Lazarus Mission, a series of manned probes sent through the wormhole to survey potential planets.
Nolan and his brother/frequent collaborator Jonathan, crafted a boring, emotionally manipulative screenplay that borrows heavily from superior source material. Nearly every emotion and word of dialog feels contrived and forced. The angst moves dangerously close to parody.
The scattershot and excessive emotional scenes overwhelm the story and actually create a movie surprisingly devoid of any actual emotion. Ludicrous metaphysical sequences, dragged straight out of Z-grade science fiction, further denigrate the film.
As is the norm with poorly written science fiction, the story lacks depth of character and plot, creating far more questions than answers. How could the military be disbanded but yet a governmental structure exist that can still manage to hide NASA? Not to mention the massive complex that houses the agency and all their tech and rocket launch pads. This is a ruined society in the midst of an apocalyptic collapse and yet there is no sign of religious fanaticism? Or evidence of really any religion at all. Those are just a brief few. The disaster of the metaphysical scenes probably deserve their own chapter in some future book about the films of Christopher Nolan.
Like 2001, which obviously influenced much of this movie, the space scenes are truly breathtaking. The science and imagery ring true. Sadly, these moments are not enough to elevate the dismal story.
Easily the worst movie of Nolan's career, the meandering nearly three-hour film takes too long to get anywhere and even longer to end. Essentially a gorgeous, emotionally-wrought, and over-long episode of The Outer Limits, Interstellar disappoints.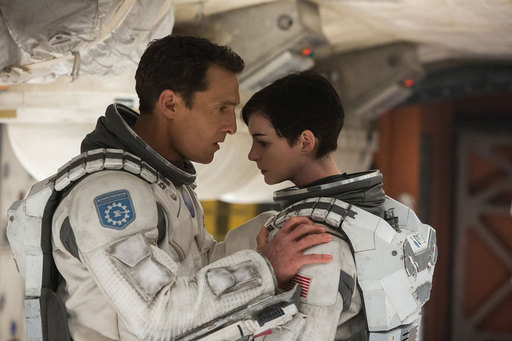 "You just gotta keep on livin ' . L-I-V-I-N."