Dude! Catwoman's been starving her tiger, just so it would have a hearty appetite for Batman? Wanting to murderate Batman is one thing, but neglecting your pets is just flat-out inexcusable.
I need some help here. "I'm off to pluck Robin's feathers" is totally a sex thing, right?
So Batman escapes Catwoman's death trap by tormenting the tiger with loud high-frequency sound. I'm really starting to feel for this animal; he's clearly just a pawn in these two freaks' kinky role-playing. To make sure he doesn't get lost in Catwoman's labyrinthine hideout, the Caped Crusader places adorable glitter bat stickers on the walls to mark where he's been (SO Lisa Frank).
Robin awakes from his Catwoman-induced slumber to find himself in the midst of a horrifying deathtrap. "Catwoman, you are not a nice person!" (he is SO TOTALLY INTO HER, you guys) It'll never work out, Robin; she keeps WAY too many hungry tigers around to have time for a relationship.
Luckily, Batman arrives to save the day; and, after a particularly painful-looking series of fisticuffs, one of Catwoman's henchmen is rounded up.
"Oh, Boy Wonder. I just returned from a late session at the mayor's office; he wants action, fast."
Now, I know what Commissioner Gordon is actually talking to Robin about on the phone; but, dammit, it's way funnier out of context. Note that at no point in this telephone conversation is it mentioned that maybe Gotham Animal Control should swing by Catwoman's hideout, to deal with three starving tigers. Just sayin', is all.
Silly Catwoman. Mining the road leading to where you're at isn't gonna stop the Bright Knight. And gassing your sole remaining henchman so you can keep all the loot for yourself MAY be strategically unwise in the long run.
Daaaamn. Another Guest Villain meets with an apparent grisly demise.
Luckily, Bruce manages to hold in his grief long enough to change into a really snappy ascot for the closing scene (which is some nonsense involving Aunt Harriet and a thieving housecat).
#SameBatTimeSameBatChannel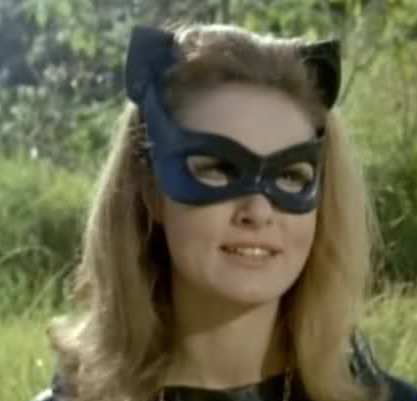 Catwoman got out. She will come in when she is good and ready. I am not going to shake a bag of treats at her.