Check out the latest brand-new edition of The Revcast, the podcast of RevolutionSF.com. We talk about every geek genre with our brand of sci-fi smarty-pants. Do it now. You deserve it. Subscribe to us and rate us on iTunes. Now you can also hear us on on Stitcher. Or use these links.
The rumors about Spider-Man and the MARVEL Cinematic Universe started last year after a series of studio emails were leaked, and then the nearly unthinkable actually happened! Sony and Marvel came to a deal and the web-head can come home! Or at least, to the movie studio created by his home! RevNews host Gary Mitchel called together a collection of web(page)-slingers, the Titaness Tegan Hendrickson and the Mighty Michael Falkner to fully cover this amazing news!
Listen in as they go over the details of the deal; how MARVEL had a movie plan that they could not change . . . until this happened; whether the studio should go with Parker or Miles; what this deal means to non-comics fans; when we'll first see Spidey in the MCU; if Marvel could or should try a similar deal with FOX; and Gary making what might be the worst analogy ever, comparing Spider-Man to whipped cream.
For more Marvel Cinematic Universe, check out our pals elsewhere on the network at ESO: MCU!
It's March! Spring is in the air and the warm winds have blown in some new offerings from Hollywood. Our hosts Deanna and Gary sit down with Tegan Hendrickson and Michael Falkner to discuss the warming of the movies. In this episode, we learn that Tegan will do a lot for a movie ticket and some booze. Take note, listeners! Also she keeps a mullet list, because why not? The contributors wax poetic about wanting a plucky underdog movie about Quidditch. And, for some reason, everyone except Deanna wants to talk about
The Sexorcist
.
Follow Us
The RevolutionSF Roundtable theme music is "20 Minutes of Oxygen" by Darkest of the Hillside Thickets. Find them at thickets.net.
RevolutionSF Roundtable is amongst the Earth Station One network of geeky podcasts. Find more stations for all things geek at ESOPodcast.com.
For our enormous archive of RevolutionSF podcasts, check out Enormous Archive of RevolutionSF Podcasts
Follow the RevolutionSF Roundtable cast on Twitter:
Gary Mitchel:@gary_mitchel / Deanna Toxopeus: @ubalstecha / Michael Falkner: @womprat99 / Tegan Hendrickson: @artful_username /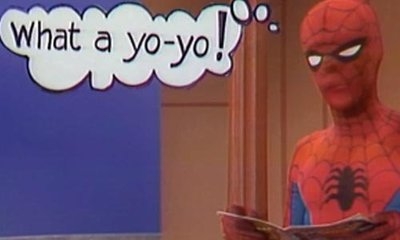 We learned everything we needed to know from Spider-Man and Morgan Freeman.