Rabbits are among nature's most beautiful creatures, and they play many important roles. In sci-fi, fantasy, and such, they are equally necessary, just as in nature, where they outwit our coyotes, tell our hunters and our ducks which hunting season it is.
"What is the terrifying mutant that strikes from behind the shroud of night?"
That night. THAT NIGHT!
What is so scary about a giant bunny? Clearly you have never encountered a giant bunny.
Check out the trailer in the link above for the horrifying way the announcer says "mutant."
You are no doubt asking yourself, "Did Rifftrax ever do Night of the Lepus? Of course they did. It's right here.
Dr. McCoy from Star Trek is in this, and DeForest Kelley hits a home run, as always.
Janet Leigh runs afoul of the Lepus. You would think she learned her lesson after taking that shower in the crazy man's hotel.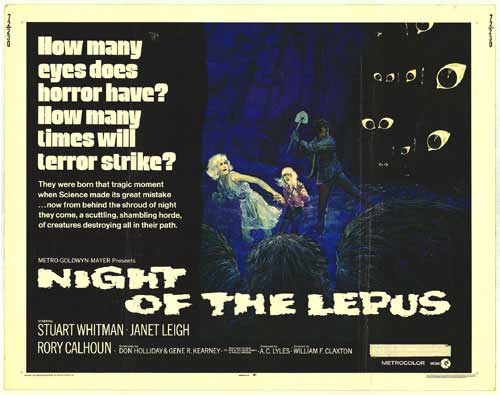 Quotable Lepus
"Attention! Attention! Ladies and gentlemen, attention! There is a herd of killer rabbits headed this way and we desperately need your help!" -- Officer Lopez
"Rabbits aren't your bag, Roy." -- George
"Well, for one thing they were NOT opened with an ax." -- Labcoat guy
"Traces of dried salava were found on the cans, the boxes AND THE VICTIMS." -- Labcoat guy
"Calm down. He's gone. The rabbit's gone." -- Janet Leigh