Movie Probe finds movies both short and not short and exposes them to a wide audience learned individuals and nice people such as yourselves. Most are free and watchable online. Click the link in the title and enjoy.
In the first two minutes, a giant shows up wearing a loincloth. I love it. Heís an evil giant. Heís not uncouth. Even evil giants have to go out in public looking presentable.
How did I not know about this movie? This is the kind of thing I need to know about, people. Itís an 80s-style fantasy flick, with a noble quest and special effects and CG creatures and guys in monster suits.
It has some genuine emotional stuff going on. Thatís not what you expect from these movies. The scenery is incredible. I donít know where they found bleak back-woods to film all this, but it reminds me of running around in my familyís horse pasture pretending to be Beastmaster.
You can watch Mythica free at the link in the title for this review. Also, you can keep loinclothed giants working in the Kickstarter for Mythica 2. It's right here at, well, Mythica 2: Darkspore Kickstarter.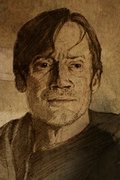 This one is ten minutes of sci-fi with no special effects and more emotional stakes than most full-length flicks.
It's about a lady who meets her favorite singer, and they hit it off and hang out for fully half the 10-minute running time and then BAM SCI-FI PREMISE. When it all hits, it does good things from there.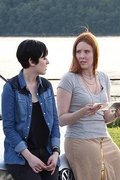 This is the first episode of a series, and it's only one minute. You can spare a minute. If you can't, buddy, you need to relax.
Visiting is about a tiny astronaut and his tiny spaceship that lands in a modern city. The tiny astronaut and the ship are all CG animated, everything else is real. But only the astronaut and ship are totally adorable.
I want one. He is precious and I can not wait to see more. In only a minute, the clip tells everything you need to know about the story and ends with a laugh-out-loud punchline, all with no dialogue.
It will take you longer to read this review than to watch Visiting. So do it now. Watch the short, I mean. You already read this review.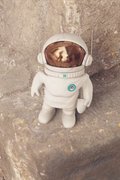 The Protokon
ďYou are a progeny of darkness. Our archangel of midnight!Ē Protokon is designed to look and feel like an 80s VHS sci-fi horror flick, such as
Brainstorm
or
Trancers
. And it succeeds, down to spots on the film and that synthesizer bass note that symbolizes drama.
It has a guy with a half-black, half-white face like Frank Gorshin on Star Trek.
And it starts with a green paragraph on a black screen that sets up the story. Iíll tell you what it says! ďWith a technology combining science and the dark arts, a perfect soldier was created, enforcing The Orderís plan for population termination.Ē
The soldier guyís story is like Robocop, but with more revenge. He looks like a black-suited Stig from Top Gear. Or he looks like Viewtiful Joe, if youíre like me and you prefer a more obscure reference. This is not a criticism.
More good parts: A computer with an original Cylon voice speaks through a red pentagram. I just rewound to watch that part again. OK, twice.
Jaden Kaine plays a sinister guide or mentor. He does narration and exposition. He and his quotes like the one at the top of this story own this movie.
Then the good guy shoots a bad guy in the nards. THE NARDS, MAN. And the nard-shot bad guy lectures the good guy about the drawbacks of revenge.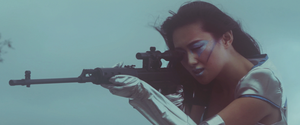 She's wearing the 80s.
The whole thing so accurately captures its source material. It's not a wacky 80s parody; it's a sci-fi horror flick played straight that re-creates the 80s-style sci-fi flick and commits wholly to the idea, in tone and look, bombastic dialogue and heavy metal over the red credits. As a tribute to the 80s, itís awesome. If you have no idea what the 80s looked like, itís still a way-out action flick. Either way, itís worth a watch just for the quotes. And the nard-shot villain. And the villains' outfits.