Zombie comedies have been done before, but never so close to my house.
Three Days Dead was filmed in Jasper, Alabama, not super-far from where I live elsewhere in deepest, darkest Alabama.
The story of getting the movie made was Town of the Living Dead, a reality show on Syfy. Fans of that can now watch the movie they made while the reality show was happening.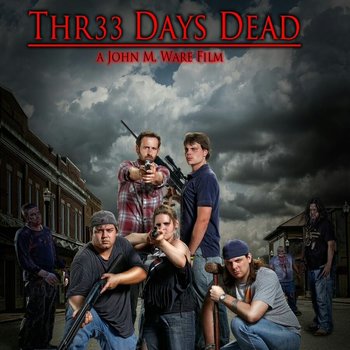 Iím doing the opposite: Iíve seen the finished product without seeing the reality show. So movie-making drama isnít what Iím judging. What resulted from it is a good, silly zombie flick, gross and goofy at the same time.
I watched it at Birminghamís Magic City Con, and hereís a potentially awkward situation. I watched it with the creators and actors that were in the movie.
If you ever get a chance to watch a movie with the people who made it, I say go for it. I was totally conscious of both my own reactions and theirs as they watched their own work.
Luckily for me, I really like it.
The creators are a talented, funny bunch. I cannot fathom the ingenuity and creativity they must have to make this feature-length movie a reality. They werenít trying to make an emotional drama. They were clearly, on screen, having fun running around their town shooting a movie.
The movie is crammed with action and comedy. The zombie makeup and zombie kills are old-school practical effects. Theyíre gore-tastic in the way that will make zombie fans cheer and everyone else watch with their hands covering their faces.
The movie is stolen by the mom, who acts and talks exactly like my mom. Sheís the mom of one of the actors. That is called method acting, people. They get it honest.
The movie is good stuff. Watch for a little girl in a beauty pageant dress in the zombie horde. No reason. She just showed up to the shoot that way. Thatís the kind of filmmaking I can get behind.