Check out the latest edition of The RevCast, the podcast of RevolutionSF.com. We talk about every geek genre with our exclusive brand of sci-fi smarty-pants. Listen at the link right below here!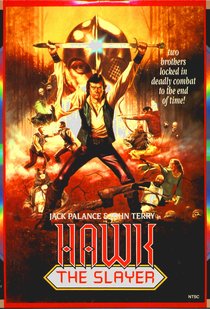 RevSF's Joe Crowe and Gary Mitchel presented the sword and sorcery spectacular Hawk the Slayer at DragonCon's American Sci-Fi Classics Track., and Joe got to talk with the director, Terry Marcel. They discuss the awesomeness of 1980s fantasy flicks, and he reveals details about the sequel, Hawk the Hunter!
Check out all the details, see exclusive videos and art, then come on board at on Hawk the Hunter's Kickstarter!
Follow Hawk the Hunter on on Hawk the Hunter's Facebook and on Twitter @Slayer_Hawk..

Follow Us
Subscribe to us and rate us on iTunes or on Stitcher. It helps the algorithms. You gotta do it for the algorithms.
The RevolutionSF Revcast theme music is "20 Minutes of Oxygen" by Darkest of the Hillside Thickets. Find them at thickets.net.
For our enormous archive of RevolutionSF podcasts, check out Our Enormous Archive of RevolutionSF Podcasts
Find more stations for all things geek at ESOPodcast.com.
Follow the RevolutionSF Revcast cast on Twitter:
Joe Crowe: @yojoecrowe