RevSF's Movie Probe finds movies that are good for the watching, eliminating that troublesome freedom of choice from your life.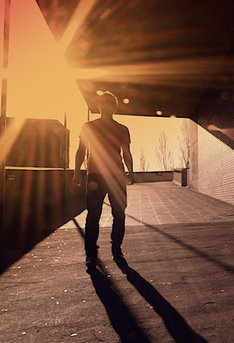 This one is only about 11 minutes, so it won't take up too much of your day. Well, about 10 minutes and 30 seconds of it. It's a audio treat, with a synthesizer soundtrack that is still thrumming in my head
right now.
. A guy walks around a deserted city that's covered in red mist. And of course, my first thought was, "Is this during V: The Final Battle?" My second thought was, "Dang. This looks neat."
The whole thing is dramatic and visual, a full movie in only 10 minutes. It even has product placement.
"It's hard to be a painter when nothing's worth painting."
This one is a action flick that crams two-plus hours of sci-fi action in about 15 minutes.
It's a brutal, moving story about a city where color is turned into energy. Desaturators are tasked with sapping color out of everything.
You might imagine that one guy with a differing opinion amid all that probably doesn't have it easy. He's a Desaturator who likes art, and, well, that doesn't go well when he meets an artist who's also super into it.
The movie takes one idea and spells out in a way that would be at home on an episode of Twilight Zone. That's about as huge a compliment as I can give.
The movie is crammed with moral ambiguity and heroes who you aren't sure about. Bonus points are awarded for a floating robot who is kind of a jerk..
Really, tons of movies would be better if they were only 15 minutes long.