While everyone is on their social media telling everyone else they better not play April Fool's jokes on them, RevolutionSF is proudly here to do that.
Here are three geek-centric movie or TV stories. Two of them are true, and totally not April Fool 's. One of them, however, is totally an April Fool.
You just have to tell us which one. Respond to this post wherever you see it, on RevolutionSF's Twitter @RevolutionSF orRevolutionSF on Facebook or just email me at revolutionsfjoe@gmail.com and tell us which of these three geek news stories is an April Fool.
If a winner is you, we'll send you a delightful prize.
Don't Google it. We know you want to, because our prizes are the best. But try to smelt out this knowledge using your own brain.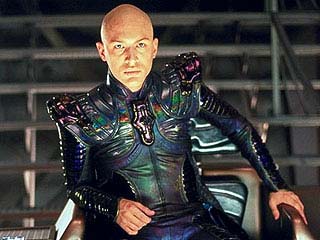 Shinzon from Star Trek Nemesis, patron saint of April Fool's Day.
Geek News Story No. 1
Ahmed Best, the actor who played Jar Jar in the
Star Wars
prequels, revealed that the original plan for Jar Jar was for him to turn Sith, but fans hated him so much that George Lucas changed his plans.

Geek News Story No. 2
JJ Abrams that he did not put lens flares in
Star Wars: The Force Awakens
because he was commanded not to by his wife.

Geek News Story No. 3
Harrison Ford said the script for
Blade Runner 2
is "the best thing he's ever read."