Check out the latest editions of The RevCast, the podcast of RevolutionSF.com. We talk about every geek genre with our brand of sci-fi smarty-pants.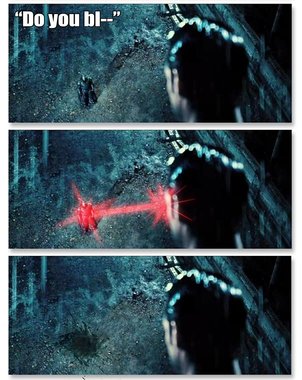 The DC Cinematic Universe begins here! And it begins with the epic clash between their biggest heroes! Can David Goyer and Zack Snyder meet the challenge of making a movie that can not only face off against MARVEL, but fandom's mixed reactions to Man of Steel? RevNews hosts Gary Mitchel & Tegan Hendrickson call in Nathan Laws to round out their podcast league to discuss these issues and more, before and then after they watched the movie!
Tune in as the trinity discuss Snyder's strengths and weaknesses; who they wish had been cast as Batman (he'd done it before); if "fun" is a bad word to the DC/WB executives; the idea of DC as a movie & TV multiverse; the intrinsic qualities of Superman; how they like their Lex; and how Nathan takes Tegan's joy.
Then, after they've seen the movie, they cover what did work, and what didn't; the whole "Martha" thing; how this Batman was built & what was missing from him; Gary explains the glowy-guy who confused Tegan & Nathan; what they feel is the movie's fundamental flaw; Nathan discovers the movie's one moment of real depth; how this hardly speaking Superman is oddly fatalistic; Tegan's need to know why Perry doesn't fire Kent; why Jason Momoa deserves a good Aquaman movie; Luthor's lack of menace; the aftermath of the movie in both the fandom and financial areas; and how they ultimately feel about the movie.
February saw a lot of movies come out, and believe it or not, other movies aside from
Deadpool
coming out and Tegan Hendrickson joins our Podcast Queen, Deanna Toxopeus to discuss the February movies. Deanna proves she's Canadian by pronouncing words the French way. Tegan and Deanna come up with a movie proposal for a haunted amusement park movie. There is an on-going discussion about the quality of blurbs the studios have created and a vist to
Muppet Game of Thrones
.
RevolutionSF RevCast Link Hole
Subscribe to us and rate us on iTunes or on Stitcher. Because it's the right thing to do.
The RevolutionSF Revcast theme music is "20 Minutes of Oxygen" by Darkest of the Hillside Thickets. Find them at thickets.net.
Disappear down the RevolutionSF rabbit hole our entire archive of podcasts.
Find more stations for all things geek at ESOPodcast.com.
Follow the RevolutionSF Revcast cast on Twitter:
Gary Mitchel:@gary_mitchel / Deanna Toxopeus: @ubalstecha / Tegan Hendrickson: @artful_username / Nathan Laws:



| | | | |
| --- | --- | --- | --- |
| Recommend Us | Discuss! | Related Pages | New on RevSF |