Gwenda Bond has produced two excellent YA action-adventure books starring Lois Lane as a teen on a mission to right wrongs and fight for truth and justice. She has an online buddy named SmallvilleGuy. And that's all you need before reading. Get started!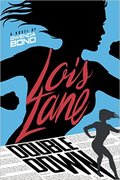 These stories are a millennial reboot of Lois Lane into a YA hero, and it suits Lois perfectly.
Now that the Supergirl TV show has aired, I see similarities in tone. Both are fully realized characters and capable, optimistic heroes.
A new character is introduced here, TheInventor, a screen name that Lois never meets, like SmallvilleGuy from book one. Is TheInventor Luthor? Batman? Toyman? Either way, I dig it.
The neat thing about Bond\'s Lois books is how the stubborn, inquisitive Lois fits into this entirely new realm. She\'s the same Lois that\'s in every Superman story. But her world, with a job and friends that don\'t involve Superman, is more entertaining here than anywhere else.
The one part I keep stumbling on is the sidebar story of her online relationship with SmallvilleGuy. They communicate without meeting, using an immersive hologram world which would be right at home in the DC Universe. Bond doubles down on the descriptions of the immersive world, but it\'s far less interesting than what\'s going on in the action of the book.
The super-elephant in the room had to be addressed, and Bond chose an interesting way to do it. But so far, it threatens to sidetrack the story. Superman\'s had his shot; I feel like these books should belong more to Lois.
More than that, virtual chats with a standoffish super-teen don\'t seem healthy. Don\'t do it, Lois! In the 1960s, he locked you in the Fortress of Solitude with a super-robot!
Lois Lane has been in movies, TV, cartoons and comics in her 75-year history. In many of her recent versions, she's dead or a robot. So finding her in this book as a YA novel hero is a distinct improvement.
Here, she's a modern-day teen. That will cause some of my fellow DC Universe fans to fall upon their fainting couches, since, you know, Lois is an adult who already knows Superman, and if she's a teen here, this just can not be set in the modern day. It throws off the canon!
Gwenda works Superman in without making him the star. He and Lois are online friends and they have never met. Their relationship in Fallout has sweetness and cleverness that has been absent in almost every recent Lois / Superman story.
He doesn't swoop in and save her at any point. The star of the story is Lois. She has elements of other Lois versions, mainly Dana Delany's Lois from Superman: The Animated Series. But her character feels like a current, vibrant new thing.