RevolutionSF's Book Probe eliminates troublesome freedom of choice from your book purchasing quandaries. All these books contain good stuff. Links to buy them are in the titles.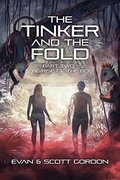 I'm an editor in my day job, and I can not un-see little things in books that many people may not notice. So when the foreword of the story is called a "forward" I feel like I have to say something. And that something is, I wish the author would change the spelling to foreword.
But other than that, the book is really good. Clearly, the creators love their work. It shows in the deep, compelling history of the world (and worlds) in which the story takes place. A lot of that history might not come into play in the story, but it could.
The first book in the series introduced the Quantum Swapper, a very fun sci-fi idea. That's the jump-off point of the story, and interstellar adventure ensues thereafter.
The story is sci-fi, mixed with some intense family drama. It reminds me a little of the TV series V, with the occupying forces who fix everything, but naturally, all is not as it seems. That is an excellent setting for a heroic story.
The book's heroes have the best names for any character in anything I have read in a very long time: JETT AND JACK JAVELIN.
I kept reading the book just so I could keep seeing the names.
Their mom's name is Evelyn Javelin. Evelyn Javelin, guys. Let that sink in.
Naming characters is hard. But the authors can stop stressing about it now, because Jett Javelin is an amazing accomplishment and sets a new high bar for everyone else.
From here on out, everyone needs to take a closer look at how they name their characters. They make think their names are cool.
But now, everyone should ask, "Are they Jett Javelin Cool?"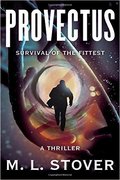 Provectus is nothing short of a high-stakes action movie, in convenient book form. It\'s OK to eat popcorn and a giant Coke while reading it, though.
It appears to be about a big pharmaceutical company conspiracy, then expands, in epic fashion, to be about the evolution of the human race. That\'s a pretty bold leap, and author M.L. Stover sticks the landing.
Stover is an anthropologist and works in forensic identification, and she uses all her knowledge in service of this story. It\'s clever and enthralling, and uses science in thrilling fashion. In some ways, it\'s fun like the TV series "Bones," jammed with dialogue and neat characters. The difference is the stakes are a little higher: THE ENTIRE HUMAN RACE.
Extra points for an afterword that includes footnotes and research for all the science herein. Science is the best, you guys.
Unbelievable FIB: Over the Underworld by Adam Shaughnessy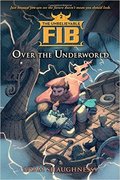 This one is book 2 in an adventure series that spans mythology and fantasy, with smart, clever kids as its heroes.
Secret agencies are the best. Stories containing them imply a larger, deeper world that characters, and the reader, must dive into and discover. The stars of the book have joined the Fantasy Investigation Bureau (FIB), which is a five-star acronym.
The book\'s stars must prevent Ragnarok, the end of the world from Norse mythology. It\'s tough for me personally to separate other uses of Norse myths from my main exposure to them in Marvel Comics.
Fans of the two Thor movies and the Avengers movie will be super-into this book; it's full of Norse characters and mythology
I hear and see Walt Simonson\'s Thor characters when reading this. Norse mythology isn\'t copyrighted by Marvel, of course. Marvel has a pretty good handle on it, and author Adam Shaughnessy has a terrific, fun take on it, even though he had a tough Bifrost to cross.
He does not try to compete with Marvel; he throws in elements of Norse myths that Marvel does little with, including an all-knowing squirrel (who just showed up in Marvel's "Squirrel Girl," naturally.)
The emotional stakes and the drama are ratcheted up pretty high: the heroes are kids and they have to face grown-up-level threats and danger. The story is a murder mystery, an emotional drama, and a funny action-flick at the same time. The book also encourages and celebrates education, while also having Thor and Odin in it.
My favorite line:
"Libraries are focal points of wild magic. Not just here. Everywhere."
Preach it!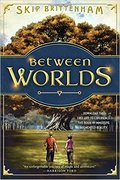 Alone, this book is really good. It is a classic-style fantasy novel, full of hope, wonder, and thrilling, cool stuff. Then it adds a VR app and turns a corner into amazingness. Illustrations throughout the book pop off the page with a downloadable VR app. There, clearly, is a reason to both read a book and use a smartphone, right there.
The book is hopeful, full of joy and fun, and it's also a way-out fantasy adventure, with creatures that would I bet would look terrific as Muppets.
It would be really good without the VR app, but hey, since it's there, you should totally use it.
Worst case, you totally freak out your younger siblings. You can not put a price on that.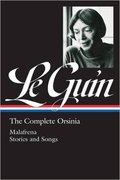 Ursula K. Le Guin is an undisputed legend in science fiction, the kind you want to dig into after you have read the famous stuff. The Library of America helps with that, reprinting and collecting all of her Orsinia writing, from before she became known for her SF.
There\'s no science fiction in this fiction; it\'s historical fiction about a place that did not exist historically. Personal, emotional drama happens in the richly conceived European country as Le Guin tracks it from the 1100s into the 20th century.
The book includes a map hand-drawn by Le Guin of the Orsinia region. That shows the author thought way too much about her setting. I approve.
The book includes a chronology up to 2014 of Le Guin's career, and extensive notes on the influences and references in the Orsinian text. It also includes "Folksong from the Montayna Province," Le Guin's first published work.
To sum up: Le Guin fans should probably go ahead and get this. Just buy. And if you aren't yet a fan, try anything that she has done. You will be.