RevolutionSF.com's Book Probe eliminates that troublesome freedom of choice from your reading process. Links to buy these are in the titles.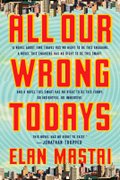 Time travel never works out quite the way anyone wants it to in every movie, TV show, and book, and yet people keep trying it out. Here, the future is what folks in the golden age of sci-fi thought the future would be, with flying cars and moon bases. Some dude, naturally, tries out time travel and messes everything up for everybody, leaving the world like it is now.
Not cool.
The story is funny, moving, and plain fun. It even gets you in the emotions a few times. It's time travel, and the writer isn't skimpy with the time-traveling aspects of the sci-fi.
I'm in the middle of re-reading it now. I need to make sure I didn't miss any good stuff.
Bonus: The book's writer, Elan Mastai, also wrote the movie "MVP: Most Vertical Primate," and I would like to take this time to thank him personally. That monkey movie is some top-notch silliness.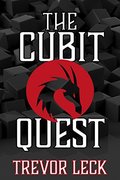 This is just fun.
It's an adventure story, in which a kid finds out crazy stuff is happening outside his real world, and then he gets swept up in it and hijinks ensue, like in Goonies or E.T. or Gremlins.
Cubit Quest already acts like a movie, with breakneck pace, funny dialogue, and mysteries that might pay off at the end of the story if I was providing spoilers.
The text could use a few more commas. The average person might not notice, because there aren't too many missing, but I'm a copy editor. I can't un-see such a thing.
The whole story is full of little bits of fun, such as a game of cricket being described as "ten minutes of ferocious tackling."
Give this one a shot. It's an 80s kid-hero movie in convenient book format.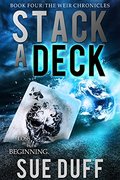 This is cool stuff. Sue Duff has created a world in which secret races are at war with each other. The story reminds me, in a way, of the Underworld movies, which means I imagined all the characters here wearing tight leather pants and long jackets.
The world of the Weir is incredibly detailed and I love that. It shows that the writer thinks way too hard about what she's doing. Virtual high-fives there.
I am just discovering this series, the fourth book in. Luckily (for me) it is possible jump into this book without reading the others. Another upside: After you finish this one, you have three books in this universe already queued up waiting for you.
These stories are about superpowered warfare, with a bad guy who owns the title megalomaniac. More credit where credit is due: It's a challenge to go full megalomaniac when writing a villain, and Duff puts her bad guy way over the top, where such cackling pro-wrestling style villains belong.
"Evil is necessary. That's why I exist," evil guy Aeros says.
That would make me buy the book right there. I mean, if I did not already own a copy.
Superheroes are the best. I suggest only reading superhero stories, and Egan Brass can help you out. The Esper Files involve a group of people with cool powers (and judging from the book cover, a glorious sense of style.)
Naturally, they fight villains. That's really all you need to get where this title is going. It reminds me most of 80s and 90s superhero comics. Heroes bicker, they talk about their powers, they practice fighting. It's somewhere between X-Men and Agents of SHIELD.
The good guys are in a secret organization (always a good thing) and are fighting an organized enemy, in this case with the excellent name "Anti-Esper Coalition." That's right up there with Brotherhood of Evil Mutants and Superman Revenge Squad. More villains should be up front with their intentions. It's refreshing.
Esper Files 2: Sky Cult continues the deep, inventive world of the first book, but you don't need the first to enjoy the second. But get both.
I need more Esper Files as soon as possible. Is the next one ready yet? What about now?
Time travel stories are the best, and they\'re also The Worst. This one leans toward the "best" side -- Quantum Lace is a combination of actual history and quantum physics, with a hefty dose of emotional stakes.
The story provides a real-science explanation for time travel, which blew my mind, quite frankly.
Could it work? Has it already worked? What is happening? These are the kinds of questions I like when I\'m reading sci-fi.
The hero, Brigit, is an 1895 Englishwoman who encounters a time traveler and hijinks ensue. However, it\'s a rare thing when I like a time-travel character as much as I like the actual time travel (Doc Brown in Back to the Future being the exception; he totally rules.)
Brigit\'s journey the science and the history together; clearly, author Leigh St. John is crazy about both subjects, because the obsessive details show that (for instance, a speech by Nikola Tesla in the book is a real speech by the real Tesla.)
I\'m going to need the next book in this series right now, Ms. St. John. Just letting you know ahead of time. And I totally did not mean to end this review with a "time" reference.