Book Probe: BattleMaster, Wade of Aquitaine, Kriendria of Amorium
Reviewed by Joe Crowe, @RevolutionSF, © 2017

You need new books. Do not panic. Book Probe has you covered. Buy them at the links. Remember about the not panicking.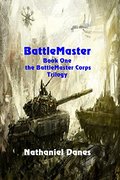 The name BattleMaster makes me think of pro wrestling theme songs and 80s action movies, in other words, awesome things.
The book is likewise quite cool, a no-holds-barred military sci-fi action story, with tons of fighting and stuff blowing up.
Here's an example, from the second page of the story. "A fresh surge of adrenaline flooded his arteries. He slapped in a magazine and sprayed and prayed like the rookie he was." That's just the SECOND PAGE.
The book includes women in combat, and no difference is made in the portrayals of the men and the women here. The women are super-tough warriors just like real-life service women (and non-service women.) But more importantly, their portrayal here is a surprising rarity for a genre that usually uses women as kidnap victims.
I'm into my second reading of this book. It's so fun, beyond the awesome portrayals of characters amid the cathartic, literally explosive sci-fi action.
It's a sci-fi action book that's at the same time hopeful and exhilarating. Be sure to crank the 80s movie theme songs while reading.
A map in the front of a fantasy novel gets an immediate two-thumbs-up from me, because that shows the author thought way too much about the setting and the framework of the whole story. Imagine my surprise at opening the book to find the map was of real historical places. Wade of Aquitaine deftly mixes medieval history and modern sci-fi stuff, and conveniently, author Ben Parris provides a glossary of all the information that you'll need. That is so considerate. Your fingers should thank him for all the keying into Google that you won't have to do. I also have to give credit to his acknowledgments, including a "logic checker." Is Ben Parris the first author to employ such a person? Shouldn't every book have one of those? Clearly it must be a secret society of learned individuals, and Parris knows one.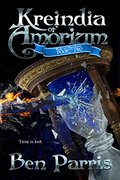 I just finished the first book in this series (the review is right above this one) in anticipation of reading this one. This one is better. Book one was good. But this is like "Wrath of Khan" to "Star Trek: The Motion Picture" levels of difference.
The historic ties remain, but now that the setting has been established, author Ben Parris cuts loose. It's all good stuff, with intense emotional stakes along with the time travel and the sci-fi. That's really all you need in any book.