You need new books. Do not panic. Book Probe has you covered. Buy them at the links. Remember about the not panicking.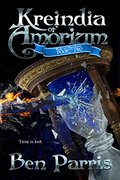 I just finished the first book in this series in anticipation of reading this one, and it's better. Book one was good. But this is like "Wrath of Khan" to "Star Trek: The Motion Picture" levels of difference.
The historic ties remain, but now that the setting has been established, author Ben Parris cuts loose. It's all good stuff, with intense emotional stakes along with the time travel and the sci-fi. That's really all you need in any book.