Michael J. Walsh of Old Earth Books: RevolutionSF Interview
© Robert R. Chase

A little while back I wrote about how various publishing houses, mostly small presses, were keeping in print some of the classics of science fiction and fantasy. This time, I am interviewing Michael J. Walsh of Old Earth Books to learn at close hand the pleasures and perils of small press publishing.
RRC: The title, Old Earth Books, intrigues me. Do I hear a Cordwainer Smith echo?
Walsh: Very much so. I was reading Smith in Galaxy ages ago. I was always struck by his use of language and myth and God knows what else. I was so pleased when NESFA brought out the omnibus volume [The Rediscovery of Man] and later the novel [Norstrilia].
RRC: Your republication of Doc Smith's entire Lensman series was a breakthrough for Old Earth, at least in terms of sales. Tell us about that.
Walsh: Imagine Bambi in the middle of I-95. I had no idea that the response would be so incredible. There were a number of months were demand was more than I could handle. I have since come to my senses -- fired my shipping department (me)! -- and turned fulfillment over to a company in New Hampshire that does this professionally.
RRC: These stories have been popular since the 40s, but the last time they were in paperback was more than thirty years ago. Why won't the big houses handle material with such a proven track record?
Walsh: The dynamics of publishing have changed. What were once considered to be good sales numbers no longer are. The New York houses have larger overheads and every book on their lists needs to make minimally a certain amount of money. As good as the Lens books have been selling, it still ain't good enough for them. Which is fine. The book food chain is essentially the author getting the book into the hands of the reader. To a tremendous degree the web has changed this. Publishers are still needed -- after all, it does cost money to make books, to promote books etc. But the process of getting the book into the hands of the reader is much easier for the small press. My books have pretty much equal footing -- at least in presentation -- at Amazon as something from Tor, Del Rey or Roc.
RRC: Looking over your list, I am struck by its eclecticism. It ranges from Wyke-Smith's children's book Marvelous Land of the Snergs to the Lensman stories to Being Gardner Dozois. Is there a unifying them to what you publish?
Walsh: Two rules: I publish what I like and what I think will make some money for the author and me. I like the gaudy pulpiness of the Lens books, and I like the writings of Lucius Shepard. Not two writers normally spoken of in the same breath.
RRC: There seems to be a renaissance in small press publishing these days. Do you think that's a valid observation, and if it is, why is it so?
Walsh: The technology of book creation has made it easier. Desktop publishing is certainly the key factor. However, that still leaves one with a garage full of books. It's the ability of "information" to get around that is crucial; information being email, usenet newsgroups, and the web.
RRC: At Capclave, you and your colleagues from FoxAcre Press and NESFA were adamant that you only do reprints. Yet Being Gardner Dozois is a new collection with lots of new material from both Dozois and Michael Swanwick. Then I see that you plan to publish a new Charles Harness novel. What gives?
Walsh: Well, let me quote Whitman:
Do I contradict myself?

Very well then I contradict myself,

(I am large, I contain multitudes.)
I have done a number of reprints, but also a few original books: the collections by Allen Steele and Patricia Anthony are essentially new -- as books. But I believe my response was to someone asking about sending their novel to a small press. I don't have the time to work with a new writer, plus promoting a new writer is even more work. The Swanwick/Dozois and the Harness books are from established pros, their names are well known. It's easier for me to promote an established writer. I would be doing a disservice to a new writer by trying to promote their book. At least for now .
RRC: You seem to be expanding from paperbacks to hardcovers. What determines your choice of format for a given book?
Walsh: Darts? Seriously . . . there is no science involved. Just a gut reaction. I've been involved in the book biz since, oh, when Ace released Dune as a dreadfully expensive $0.95 paperback.
RRC: We both consider Robert Aickman to be one of the best ever writers of ghost stories, horror stories, or, in his terms, strange stories. If its not too painful, tell us the status of the Robert Aickman collection you have been promising for years.
Walsh: Oh, not painful at this point; it's almost amusing. The project is speeding along at an Aickman like pace. I have to deal with the US agent (Kirby McCauley) of Aickman's Estate, who has to deal with the UK agent. Kirby was a friend of Aickman's and would like to see a good quality edition of the stories available. Over the last two years I've had a number of "crap hitting the fan" adventures, which have caused me to be not as diligent in pestering Kirby as I would like to have been. However, the books will eventually happen. I had hoped to have some original Edward Gorey art, and even talked to him about doing such, but he died before completing anything. However . . . in the story, "Ravissante" Aickman's character mentions, rather approvingly, an artist named Charles Sims. Seems he did exist: 1873-1928. The Tate (www.tate.org.uk) has a few holdings on their site. Note that in the story the character refers to a piece entitled: "Am I Not the Light in the Abyss" while the Tate has a piece titled: "I Am the Abyss and I Am Light". I think Aickman would have approved having this piece grace one of his covers.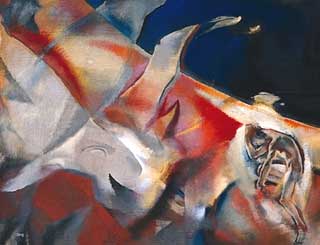 RRC: What are your future plans for Old Earth Books?
Walsh: For 2002, the 5 books of Edward Whittemore. Who, you ask? See: http://www.relax.com.au/~amf47/jerusalemdreaming/ for details about Whittemore and the books. There will be more of the complete works of Edgar Pangborn -- I have rights to everything, and late last year was able to acquire a copy of the manuscript of Atlantean Nights Entertainment, announced over 20 years but never published. We'll see about that one. From Peter Beagle I received a collection of stories by Mary Pangborn, Edgar's sister. Half of the stories were published by Terry Carr, which is a pretty good pedigree. I've been talking to Kirby McCauley about reprinting Alfred Bester's non-sf novel Who He?. I've also been talking to Allen Steele about doing a one volume hardcover omnibus of his first three novels, for which he'll do a little tweaking to the text as well as exorcising the typos. Every so often I pester Lucius Shepard about doing The Man who Painted the Dragon Griule as a hardback matching the size of Scalehunters Beautiful Daughter and The Father Stones. Plus, to make the collectors crazy, issue a slipcase that will hold all three dragon books. Also in the works is a Howard Waldrop collection, which would contain all his solo fiction since the publication of Going Home Again. There may even be a one or two volume Collected Waldrop. This would not be his complete stories because 1) there are apparently some he would rather not see in book form, and 2) it would not include the collaborations in the forthcoming Golden Gryphon collection. All of this and a full-time job as east coast sales rep for the Johns Hopkins University Press. And chairing the 2003 World Fantasy Convention in DC.
(Readers may find out more about Old Earth Books at http://www.seahunt.org/oeb. Be warned that this site is not fully functional or up to date. Response time will vary depending on whether or not Michael is on the road for JHU.)